The spell begins here !
The Lakeview complex sits pretty on an 8 acre stretch of land , on the sensuous terraced slopes of a hill offering a magnificent double – spectacle.
Even at an ambling pace, you can reach the boathouse in 10 minutes flat , or the bus stand in 15 minutes. The complex has easy access to every part of the town and beyond .
The largest and the most exclusive hill resort in India , Lakeview consists of 123 specially designed , fully independent luxury cottages.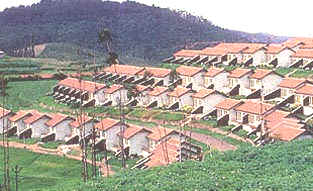 Hotel Lakeview is where you begin to experience Ooty.

Each unit in the Lakeview complex is a self – contained luxury cottage, with full – fledged amenities and facilities offering maximum privacy.
Amenities
Private garden in front of the cottage.
Open deck overlooking the lake and the valley.
Bedroom.
Living – cum – dining room .
Wall – to – wall carpeting .
Bathroom with 24 hour hot water supply.
Telephone.
Car parking facility.
TV & Video
Channel music.
Transport Facility for Sightseeing, Going to Coimbatore/Kodaikannal.