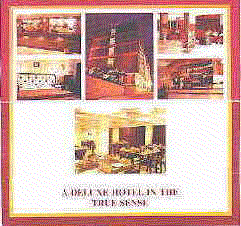 The most preferred hotel, amidst sylan beauty in a land of gorgeous green mountains, mysterious deep valleys, shimmering blue lakes and whispering willows. Our hospitality begins the moment you decide to stay with us. Your decision ensures you the best of Kodaikanal. Feel the warmth from our very portals. We make a beautiful difference to your holidays.
The well designed and decorated rooms with all modern amenities, the soothing pipe music, satellite television with a host of channels, direct dialing with STD/ISD facilities, quick and efficient room service and every window frames a beautiful picture of scenic Kodaikanal make your stay pleasant.

Centrally located, only a few minutes walk from the lake or town. The nearest airports are Madurai 120 kms, Coimbatore 176 kms and Trichy 197 kms. The nearest railhead is Kodai Road 80 kms and Kodaikanal is connected by all important places in south India.
Our Sivaruchi Restaurant serves you the most delicious south, north Indian and Continental chinese, pure veg, Breakfast Lunch and Dinner, Special South India, Thali full meals with raw/boiled rice, Chappatti, Sweet, Curd, Papad, Pickle, Rasam, Sambar, Karakolambu and a variety of Veg side dishes. Also available are special Gujarathi meals, Marvari meals and Bombay meals from the tasty hands of supreme Master Chief MAHARAJ PUROHIT.

A Permit room to keep your spirits high. A Shopping Arcade where you can shop till you drop. A Travel Agent to make your travel arrangements, Rent-A-Car and Guides on request. Regular Bus Tour operation from Madras-Kodaikanal-Madras and Bangalore-Kodaikanal-Bangalore to our very portico. A Money Exchange counter for foreign currency holders. Doctor On Call should you need any kind of medical assistance. There is more. Whether it is your laundry or pick-up services (on request) or fax and mail services or easy parking you find them possible with us.
Feel the difference... Experience the Fantasy...
For bookings also contact M/S Rathna stores, No. 47, Pondy bazaar, T.Nagar, Chennai 600017. Ph. 4342942, 4342952 or 4343139

No. 45, Convent road,
Kodaikanal,
Tamil Nadu.
India.
91-4542-41226,27,28,29
91-4542-42352,54

fax : 91-4542-41100